16cm Copper Saucepan
Yet another useful addition to your culinary workforce, this 16cm saucepan lives up to its excellent reputation. The outstanding thermal conductivity of copper is second only to silver, making this a peerless choice when selecting cookware. The even heat distribution of solid copper is wedded to the non–reactive properties of stainless steel for pure food flavour and a superior cooking experience. Dependable performance, that's Falk Culinair.
2.5mm bimetal construction for even heat distribution and no hot spots
Stainless interiors for pure food flavour
Satinated surfaces for easy maintenance
Yield approximately 3 generous portions
The high straight sides and flat bottom of this 16cm saucepan facilitate moisture retention so your grains and rice will be fluffy and tender, your beans and legumes plump and moist. The bimetal wizardry of Falk's 21st century technology ensures even heat distribution, lower overall temperature requirements and in many cases shorter cooking times for cookware that's "green." Energy efficient, solid reliability. You can count on Falk Culinair.
Falk Ref: INO2515SF
Diameter: 16cm (6.3")  Height: 7.8cm (3.1")  Capacity: 1.5 litres (3.2 pints)  Weight: 1.51 kgs (3.3 lbs)
Add the Falk 16cm Copper Saucepan to your cart
Price
£145.00 £108.75
IN STOCK
---
Add a Falk 16cm Copper Lid to your cart
Price
£50.00 £37.50
IN STOCK
Customer Reviews
Showing 2 of 22 reviews see all reviews
"Superb service and product" - Anthony O'Toole
I would recommend this product to a friend!
2019-01-20
As a professional chef, I've been on the hunt for proper copper pots for quite a while. They are perfect. Exactly the type of pot you would find in the best kitchens around the world. Chefs love them as they are great heat conductors, easy to clean and last a lifetime.
7 customers found this review helpful. Did you? Yes, I did!
"Great" - Mrs Bisofsky
I would recommend this product to a friend!
2017-12-24
Never had a copper pan before but thought our new kitchen deserved them. Started with this one and love it. They are heavy and great quality. I have now bought a frying pan and have a list of others that I'm going to purchase to complete my set.
286 customers found this review helpful. Did you? Yes, I did!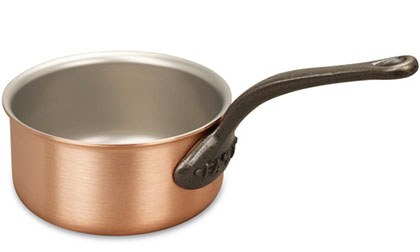 Rollover the image to zoom, or click to view this in high definition.
May we also suggest
£50.00 £37.50
£175.00 £131.25
£150.00 £112.50
£145.00 £108.75
The Falk Culinair Guarantee...
As you may already know, we provide a
"copper-bottomed" guarantee!
If you are not totally satisfied when you receive your Falk Copper Cookware, you can simply return this to us for a full, no-questions-asked refund.
In addition, all our products carry a lifetime warranty against any manufacturing defects.
Free next day UK delivery on all orders over £50