20cm Copper Casserole
Indulge your desire for versatile solid copper cookware with Falk Culinair. Our patented bimetal technology bonds a 200 micron fine layer of non–reactive stainless steel for interiors which will insure no taint to your recipe's flavour, to a 2.3mm solid copper plate for superior heat conductivity. This superbly crafted 20cm casserole will produce beautifully finished stews, soups and casseroles slowly cooked either in the oven or on the hob, giving you greater choice. With satinated surfaces for easy care, and ergonomic cast iron handles, this 20cm copper casserole is sure to become one of your kitchen favourites.
Yields approximately six servings
Solid copper bimetal technology for superior heat distribution
Hob to oven to table versatility
Non–reactive stainless interiors for improved flavour
Our cookware improves results with no scorching or hot spots. And cleaning up is always a breeze. Best of all, the attractive appearance makes this cookware welcome as serving pieces on your table. Versatility, choice, quality you can depend on. That's Falk Culinair.
Falk Ref: INO2523SF
Diameter: 20cm (7.9")  Height: 10.2cm (4")  Capacity: 3.2 litres (6.8 pints)  Weight: 2.14 kgs (4.7 lbs)
Add the Falk 20cm Copper Casserole to your cart
Price
£225.00
IN STOCK
---
Add a Falk 20cm Copper Lid to your cart
Price
£75.00
IN STOCK
Customer Reviews
Showing 2 of 18 reviews see all reviews
"Just perfect" - Steve
I would recommend this product to a friend!
2020-05-24
Love the design and functionality. Would definately buy it again!
125 customers found this review helpful. Did you? Yes, I did!
"20cm casserole pan" - Ian
I would recommend this product to a friend!
2019-11-08
Ideal all in one casserole pan, cut it up throw it in let it cook, brilliant
167 customers found this review helpful. Did you? Yes, I did!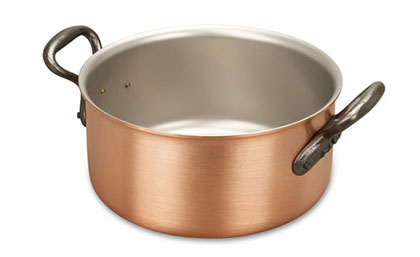 Rollover the image to zoom, or click to view this in high definition.
May we also suggest
£75.00
£280.00
£185.00
£195.00
The Falk Guarantee...
As you may already know, we provide a "copper-bottomed" guarantee!
If you are not totally satisfied when you receive your Falk Copper Cookware, you can simply return this to us for a full, no-questions-asked refund.
In addition, all our products carry a lifetime warranty against any manufacturing defects.
Free next day UK delivery on all orders over £50