20cm Copper Saute Pan
Your sautés for two to three people will be packed with flavour when you put our 20cm bimetal sauté pan to the test. High straight sides regulate moisture while the solid copper conducts heat superbly.
Yields two to three servings
High straight sides to regulate moisture
2.5mm bimetal for superior heat distribution
Ergonomic cast iron handle and satinated surfaces
Shake up your routine with our 20cm copper sauté pan.
Falk Ref: INO2560SF
Diameter: 20cm (7.9")  Height: 5.5cm (2.2")  Capacity: 1.5 litres (3.2 pints)  Weight: 1.88 kgs (4.1 lbs)
Add the Falk 20cm Copper Saute Pan to your cart
Price
£175.00
IN STOCK
---
Add a Falk 20cm Copper Lid to your cart
Price
£65.00
IN STOCK
Customer Reviews
Showing 2 of 2 reviews
"Beats all the rest" - Mr Edward Johnston
I would recommend this product to a friend!
2015-07-22
I love Falk copper pans. I've used most of the other famous brands (le creuset, Woll, All Clad etc.), but Falk comes out on top. This sauté pan is so useful - making one pot single meals, reducing sauces, making emulsion sauces to name a few. It's so versatile and like all Falk products is top quality and beautiful to look at.
519 customers found this review helpful. Did you? Yes, I did!
"Handy little pan" - Jonathan
I would recommend this product to a friend!
2014-12-14
A nice pan for 1-2 portions. Light enough to saute' and small enough to fit in the oven comfortably. For those currently without a saute' pan looking for something more multi purpose, you might consider the next size up. If you already have a larger saute' pan you will probably find this compliments it nicely
561 customers found this review helpful. Did you? Yes, I did!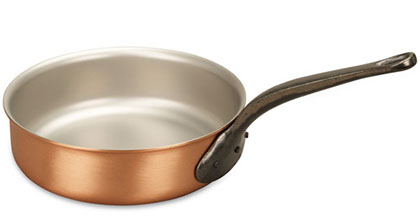 Rollover the image to zoom, or click to view this in high definition.
May we also suggest
£255.00
£65.00
£170.00
£215.00 £172.00
The Falk Guarantee...
As you may already know, we provide a "copper-bottomed" guarantee!
If you are not totally satisfied when you receive your Falk Copper Cookware, you can simply return this to us for a full, no-questions-asked refund.
In addition, all our products carry a lifetime warranty against any manufacturing defects.
Free next day UK delivery on all orders over £50