24cm Copper Cauldron
Our 24cm cauldron, with extra height, is the perfect vessel for long slow cooking. The stainless steel lining on this solid copper pot will never interact with food to ensure your stocks, soups, bisques and chowders taste as they should. The solid copper body distributes heat evenly and maintains constant temperatures. And it conserves fluids for perfect consistency every time.
Works as well on the hob as it does in the oven
Retains ideal moisture in recipes
Large capacity, superb for bouillabaisse and stocks
2.5mm bimetal, maintains even temperatures in slow cooking
Falk Culinair is the gold standard in solid copper cookware. Or should we say the copper standard?
Falk Ref: INO2573SF
Diameter: 24cm (9.4")  Height: 18cm (7.1")  Capacity: 7.5 litres (15.8 pints)  Weight: 3.6 kgs (7.9 lbs)
Add the Falk 24cm Copper Cauldron to your cart
Price
£330.00
LOW STOCK
---
Add a Falk 24cm Copper Lid to your cart
Price
£75.00
LOW STOCK
Customer Reviews
Showing 2 of 12 reviews see all reviews
"Copper Chef Set Purchased" - Mr Ksiazkiewicz
I would recommend this product to a friend!
2019-09-22
This was part of the Copper Chef Set that we purchased for my daughter and her soon to be husband. They have found it to be exactly what they wanted. The quality is excellent and they were absolutely thrilled with it's performance! This is a gift that will last a lifetime. Would highly recommend to anyone that is inclined to cooking with high quality and reliable kitchen cooking sets. If copper is good enough for the Queen's kitchen, it's good enough for us and Falk makes the best product.
107 customers found this review helpful. Did you? Yes, I did!
"One you should put in your will!" - Poonam
I would recommend this product to a friend!
2019-06-26
They say copper pots are excellent conductors of heat hence faster cooking time and better heat distribution, but I thought, nay, probably won't be that much but I was taken back how much difference a copper pot makes. My other pots boil at level 10, my copper pot already at 4! Plus all my sauces come out much better and cooked properly without burning at the bottom.

I would definitely recommend this pot if cooking in bulk and large family.

The only negative I can think of is that it is heavy. Washing can be tough holding it around but then you can see why costs this much, a lot of metal is used to make it and can definitely picture passing it on to one of my kids.
124 customers found this review helpful. Did you? Yes, I did!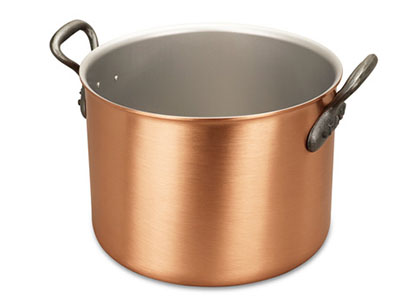 Rollover the image to zoom, or click to view this in high definition.
May we also suggest
£255.00
£75.00
£270.00
£390.00
The Falk Guarantee...
As you may already know, we provide a "copper-bottomed" guarantee!
If you are not totally satisfied when you receive your Falk Copper Cookware, you can simply return this to us for a full, no-questions-asked refund.
In addition, all our products carry a lifetime warranty against any manufacturing defects.
Free next day UK delivery on all orders over £50