28cm Copper Cauldron
This extra capacity 28cm cauldron maintains perfect temperatures while retaining optimum moisture for soups, stocks, broths, bisques and gumbos. The 2.5mm bimetal composition offers the best attributes of solid copper as well as stainless steel, alchemically combined in Falk's intercrystalisation process.
High sides increase moisture retention
2.5mm bimetal construction for even heat distribution
Large capacity to cater for groups
Oven to hob reliability
Striving to exceed your expectations, we offer 21st century technology and enduring quality. Your choice for a new generation. Falk Culinair.
Falk Ref: INO2574SF
Diameter: 28cm (11")  Height: 17.0cm (6.7")  Capacity: 9 litres (19 pints)  Weight: 4.5 kgs (9.9 lbs)
Add the Falk 28cm Copper Cauldron to your cart
Price
£420.00
IN STOCK
---
Add a Falk 28cm Copper Lid to your cart
Price
£95.00
IN STOCK
Customer Reviews
Showing 2 of 6 reviews see all reviews
"Good all rounder" - Gigi
I would recommend this product to a friend!
2019-06-29
The perfect sized pan for making stock,soups curries, pasta, casseroles... . It also has been invaluable for batch cooking for freezing, and for the times we have a load of hungry mouths to feed! It is a sturdy pan, comfortable to use, for both hob and oven. It is a real pleasure to cook with.
241 customers found this review helpful. Did you? Yes, I did!
"my favourite" - Lucy Buxton
I would recommend this product to a friend!
2019-06-25
we are a large family and I love to cook for people, I use this for lots of things from stews, stocks, curries, slow cooking mutton joints and hams, you can fit so much in it and leave it on the hob for hours simmering, cooks evenly and very easy to clean
255 customers found this review helpful. Did you? Yes, I did!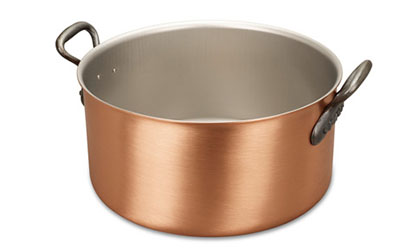 Rollover the image to zoom, or click to view this in high definition.
May we also suggest
£95.00
£350.00
£365.00
£380.00
The Falk Guarantee...
As you may already know, we provide a "copper-bottomed" guarantee!
If you are not totally satisfied when you receive your Falk Copper Cookware, you can simply return this to us for a full, no-questions-asked refund.
In addition, all our products carry a lifetime warranty against any manufacturing defects.
Free next day UK delivery on all orders over £50