24cm Copper Wok with Helper Handle
Hybrid versatility makes this great little multi use wok indispensible in any kitchen. Whether stir frying, braising or deep–frying, this wok will surpass your expectations. Traditional curved shape, but with a flat bottom for stability. Our patented 2.5mm copper bimetal construction ensures even heat distribution for flawless results.
Traditional curved sides with modern flat bottom for stability
Multi use vessel for stir–frying, braising, or deep–frying
2.5mm patented bimetal technology
Ergonomic cast iron handle and helper handle for safe lifting
The satinated surfaces of the solid copper exterior and non–reactive stainless interior add a new dimension of convenience to an already superb product. Falk Culinair, improving your culinary experience.
Falk Ref: INO2598SF
Diameter: 24cm (9.4")  Height: 8cm (3.1")  Capacity: 2.7 litres (5.7 pints)  Weight: 2.8 kgs (6.2 lbs)
Add the Falk 24cm Copper Wok with Helper Handle to your cart
Price
£230.00 £172.50
IN STOCK
---
Add a Falk 24cm Copper Lid to your cart
Price
£75.00 £56.25
IN STOCK
Customer Reviews
Showing 1 of 1 reviews
"Beautiful piece of cookware" - David
I would recommend this product to a friend!
Falk 24cm Copper Wok with Helper Handle
2013-08-03
As well as looking absolutely stunning, this wok doubles up as a great pan for making sauces in.

Build quality is superb, and it is easy to keep clean. 5 stars for sure.
628 customers found this review helpful. Did you? Yes, I did!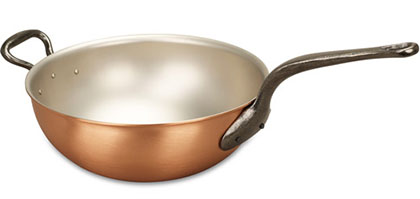 Rollover the image to zoom, or click to view this in high definition.
May we also suggest
£75.00 £56.25
£210.00 £157.50
The Falk Culinair Guarantee...
As you may already know, we provide a
"copper-bottomed" guarantee!
If you are not totally satisfied when you receive your Falk Copper Cookware, you can simply return this to us for a full, no-questions-asked refund.
In addition, all our products carry a lifetime warranty against any manufacturing defects.
Free next day UK delivery on all orders over £50