10cm Copper Lid
Partnering with our 10cm saucepan, this hard working little lid will keep the moisture and heat in. Ergonomic cast iron handle and satinated surfaces finish this lid to perfection.
Beauty and durability you can depend on. Falk Culinair.
Falk Ref: INO1047SF
Diameter: 10cm (3.9")  Weight: 0.11 kgs (0.2 lbs)
Add the Falk 10cm Copper Lid to your cart
Price
£45.00
IN STOCK
Customer Reviews
Showing 2 of 5 reviews see all reviews
"Brilliantly Useful Little Lid!" - Mrs Addicott
I would recommend this product to a friend!
2019-06-13
This rounds off my 10cm wee pan beautifully.

It allows me to cook 2 portions of peas and to drain them easily, also without the need to use and wash up a "normal" sized pan which is huge in comparison.

This is what I love Falk for!!!
251 customers found this review helpful. Did you? Yes, I did!
"Fab quality, fab fit!" - Joanna
I would recommend this product to a friend!
2019-06-03
I was surprised to finally locate this difficult to find sized 10cm diameter lid! When I saw the quality on the Falk website, I thought, this surely is a very fortunate find. The price was very reasonable, and I found the quality to be unsurpassed. It is beautifully made, excellent quality workmanship, and it actually fit my wee saucepan properly!

Great quality, priced competively, fast despatch, good packing, very good communication, AND two gifts for customers - a bonus container of Barkeeper's Friend - exactly what is needed to keep that copper sparkling, PLUS a wonderfully illustrated Falk Culinar product catalogue!

All in all, a great buying experience - no disappointments, but pleasure in receiving a quality purchase. Highly recommended shop, highly recommended products.

254 customers found this review helpful. Did you? Yes, I did!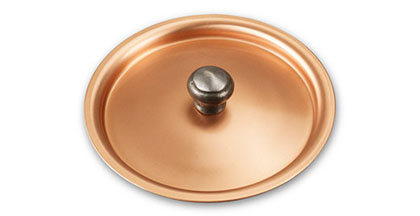 Rollover the image to zoom, or click to view this in high definition.
May we also suggest
£90.00
£140.00
£70.00
£135.00
The Falk Guarantee...
As you may already know, we provide a "copper-bottomed" guarantee!
If you are not totally satisfied when you receive your Falk Copper Cookware, you can simply return this to us for a full, no-questions-asked refund.
In addition, all our products carry a lifetime warranty against any manufacturing defects.
Free next day UK delivery on all orders over £50