30 x 20cm Oval Copper Frying Pan
Innovation should be our middle name at Falk Culinair and this stunning oval frying pan simply confirms that fact. Patented bimetal construction ensures your whole fish or leg of lamb or spatchcock chicken will brown to perfection in the unique oval interior. Copper conducts heat evenly, providing accurate regulation of temperature for results that will impress.
30cm X 20cm oval pan accommodates whole fish
2.5mm bimetal construction for even heat distribution
Non–reactive stainless interior for pure food flavour
Low sides to facilitate browning and searing
The non–reactive stainless interior makes sure that your food tastes as it should. Falk Culinair makes cooking a pleasure with intelligent solutions for cooks who care about function and flavour.
Falk Ref: INO2579SF
30cm x 20cm (11.8" x 7.9")  Height: 4cm (1.6")  Capacity: 1.5 litres (3.2 pints)  Weight: 1.78 kgs (3.9 lbs)
Add the Falk 30 x 20cm Oval Copper Frying Pan to your cart
Price
£195.00 £146.25
IN STOCK
Customer Reviews
Showing 1 of 1 reviews
"My New Arrival." - Mr Moor
I would recommend this product to a friend!
Falk 30 x 20cm Oval Copper Frying Pan
2015-07-23
Having just received my new oval copper frying pan and lid, which looks great and goes together so well, I was inspired to put them to work straight away. It is a dream! I had thought to use it for fish dishes mainly, however it is so versatile I am using it for so many more meals and preparations. If you don't have this item in your kitchen yet, then really try it and you will wonder how it is that you have managed without it for so long, I did. A great piece of essential cook wear.
499 customers found this review helpful. Did you? Yes, I did!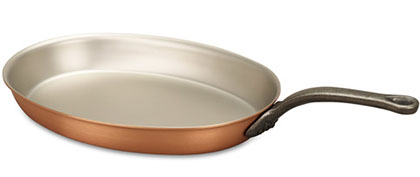 Rollover the image to zoom, or click to view this in high definition.
May we also suggest
£205.00 £153.75
£260.00 £195.00
£215.00 £161.25
£75.00 £56.25
The Falk Culinair Guarantee...
As you may already know, we provide a
"copper-bottomed" guarantee!
If you are not totally satisfied when you receive your Falk Copper Cookware, you can simply return this to us for a full, no-questions-asked refund.
In addition, all our products carry a lifetime warranty against any manufacturing defects.
Free next day UK delivery on all orders over £50