20cm Mousseline Pan
Enter an era of clever and convenient cooking with our savvy innovations. Possessing curved contours matching the radius of the average ballon whisk, this 20cm mousseline is a satisfying alternative to traditional straight-sided pans. The higher rim easily contains high volume, frothy and foamy mixtures with no overflow.
Greater depth to accommodate high volume recipes
Curved contours to promote effortless whipping and whisking
Flat bottom for stability
2.5mm thick bimetal technology for even heat distribution
Intelligent cookware for clever cooks. You can expect more with Falk Culinair.
Falk Ref: INO2586SF
Diameter: 20cm (7.9")  Height: 9.5cm (3.7")  Capacity: 2.6 litres (5.5 pints)  Weight: 2.57 kgs (5.7 lbs)
Add the Falk 20cm Mousseline Pan to your cart
Price
£235.00
IN STOCK
---
Add a Falk 20cm Copper Lid to your cart
Price
£75.00
IN STOCK
Customer Reviews
Showing 2 of 2 reviews
"Mouselline pan" - Mrs Susan Green
I would recommend this product to a friend!
2015-09-21
We have just purchased our second item from Falk, and are as pleased with this item as we were with our first purchase. We now have a saucier and a mouselline pan both with lids and are really pleased with the exceptional quality. The third item I am sure is not far away! Would definitely recommend these fine saucepans to anyone.
696 customers found this review helpful. Did you? Yes, I did!
"Copper Mousseline Pan" - Jennifer
I would recommend this product to a friend!
2014-08-03
This pan is made specifically for making mouseelines and creamy sauces in. You can stir away without the contents going over the edge and the heat control is amazing. Looks pretty too.
754 customers found this review helpful. Did you? Yes, I did!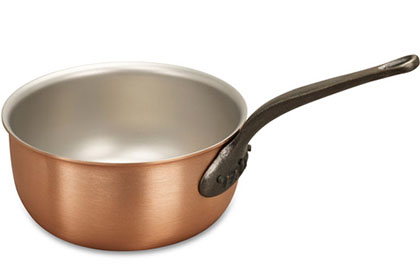 Rollover the image to zoom, or click to view this in high definition.
May we also suggest
£75.00
£240.00
£170.00
The Falk Guarantee...
As you may already know, we provide a "copper-bottomed" guarantee!
If you are not totally satisfied when you receive your Falk Copper Cookware, you can simply return this to us for a full, no-questions-asked refund.
In addition, all our products carry a lifetime warranty against any manufacturing defects.
Free next day UK delivery on all orders over £50