Falk Copper Saucier Set
An unrivaled performer, this saucier set offers four popular sizes, each ideal for recipes that require frequent stirring due to their curved sides. From delicate reductions to smooth rues, to sauces with body, these sauciers will meet every challenge. You'll discover a new dimension in convenience while enjoying superb results with every use.
Falk Culinair steps up to meet the demands of a techno savvy world while maintaining timeless craftsmanship. Enjoy the stunning benefits and value for money with our multi piece discount. Falk Culinair, you know you want it!
Falk Ref: FCS04
Total weight of this set: 8.635 kgs (19.0 lbs)
Please click items listed above for the specification of individual pieces.
Add the Falk Copper Saucier Set to your cart
Price
£1,075.00 £805.00
LOW STOCK
Customer Reviews
Showing 2 of 2 reviews
"Fantastic quality and so easy to use" - Matthew
I would recommend this product to a friend!
2012-12-04
These pans are hanging up in our kitchen and they just look fabulous. Using them is a dream. Consistent heat, responsive to changes and easy to clean once the meal has been prepared. They are and will be a treasured possession for a lifetime. Many thanks to Falk Culinair for producing such an excellent product.
990 customers found this review helpful. Did you? Yes, I did!
"The best saucepans I have ever used" - Thomas Dettmer
I would recommend this product to a friend!
2012-10-12
Very happy with my copper cookware purchase as well as the fine service received from the folk at Falk. The staff were really helpful and my pans arrived the next day all very well packaged. The build quality of these is superb. They are very solid and look fantastic in our kitchen. So good I have just bought a rack to display them instead of hiding them away in a cupboard. They are easy to clean as well. The range of sizes in the set is perfect for any cooking task.
1006 customers found this review helpful. Did you? Yes, I did!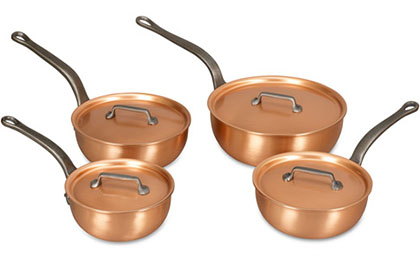 Rollover the image to zoom, or click to view this in high definition.
May we also suggest
£2,060.00 £1,520.00
£730.00 £545.00
£1,170.00 £870.00
£1,240.00 £920.00
The Falk Guarantee...
As you may already know, we provide a "copper-bottomed" guarantee!
If you are not totally satisfied when you receive your Falk Copper Cookware, you can simply return this to us for a full, no-questions-asked refund.
In addition, all our products carry a lifetime warranty against any manufacturing defects.
Free next day UK delivery on all orders over £50