Falk Single Minded Set
Created with the single person in mind, this five piece set combines a useful selection of our more modest sized pieces along with two lids. Whether you're cooking for yourself or sharing with a friend or two, this practical set will exceed your expectations.
Enter the world of Falk Culinair solid copper cookware. 21st century technology and heirloom quality.
Falk Ref: FCS02
Total weight of this set: 6.79 kgs (15.0 lbs)
Please click items listed above for the specification of individual pieces.
Add the Falk Single Minded Set to your cart
Price
£775.00 £580.00
IN STOCK
Customer Reviews
Showing 1 of 1 reviews
"Superb product and customer service!" - Mrs Turner
I would recommend this product to a friend!
2012-10-25
The communication and service I received was second to none as these pans were a surprise birthday present I had some special delivery requests which were all met. They even included a card which I didn't request.

Very happy and would definitely use again!
956 customers found this review helpful. Did you? Yes, I did!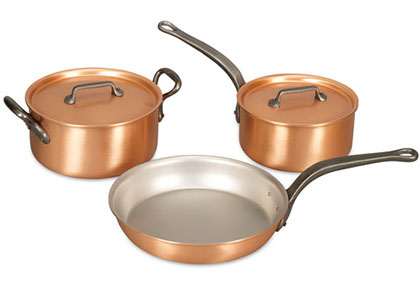 Rollover the image to zoom, or click to view this in high definition.
May we also suggest
£715.00 £535.00
£730.00 £545.00
£1,170.00 £870.00
£1,240.00 £920.00
The Falk Guarantee...
As you may already know, we provide a "copper-bottomed" guarantee!
If you are not totally satisfied when you receive your Falk Copper Cookware, you can simply return this to us for a full, no-questions-asked refund.
In addition, all our products carry a lifetime warranty against any manufacturing defects.
Free next day UK delivery on all orders over £50