Falk Family Friendly Set
Family cooking will be a pleasure with this selection coordinated to your specifications. You asked, we listened and the result is this useful, durable set of quality solid copper cookware containing everything you need to cater for your hungry horde. Knowing you care about value as well as quality, this set is offered at our legendary multi piece discount. How can you resist?
We're confident these beautiful heirloom quality pieces of cookware will stand up to the challenges of your busy kitchen and still be ready to do service for the next generation. That is, if you can bear to part with them! Falk Culinair. It's what the future looks like.
Falk Ref: FCS06
Total weight of this set: 12.1 kgs (26.7 lbs)
Please click items listed above for the specification of individual pieces.
Add the Falk Family Friendly Set to your cart
Price
£1,240.00 £920.00
LOW STOCK
Customer Reviews
Showing 2 of 5 reviews see all reviews
"Wonderful service and a true investment" - Rahul
I would recommend this product to a friend!
2016-07-04
After much research and positive comments about the Falk Culinary UK site on the internet, I decided to purchase the Family Friendly Set. Being on a budget, however, but wanting to invest in my first cookware set that would last me a lifetime, the price was very reasonable. I was amazed to receive the cookware set within a few days to address abroad and the postage was very reasonable. The cookware set is wonderful to cook with and I couldn't be happier.

All that said, I think the consideration and attentiveness of Neil from Falk Culiniar far outweighed the weight of the all the copper pans combined (around 12 kgs I think!). It is very rare to get such wonderful assistance in this day and age and I am truly grateful to Neil. He is an asset to the Falk brand as it's wonderful ambassador
705 customers found this review helpful. Did you? Yes, I did!
"Simply the best" - Ron Gramann
I would recommend this product to a friend!
2012-08-17
Hands down the best cookware money can buy. If you are considering Falk, purchase one of their specials and see for yourself.
Regarding the price, I think you need to view this as "the last cookware you'll ever buy". If you're like me you probably have burned through several sets over the years. Once you go with Falk - end of story.
My set will be going in my will :)
1218 customers found this review helpful. Did you? Yes, I did!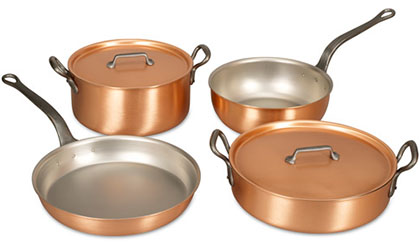 Rollover the image to zoom, or click to view this in high definition.
May we also suggest
£1,590.00 £1,175.00
£2,060.00 £1,520.00
£730.00 £545.00
£1,170.00 £870.00
The Falk Guarantee...
As you may already know, we provide a "copper-bottomed" guarantee!
If you are not totally satisfied when you receive your Falk Copper Cookware, you can simply return this to us for a full, no-questions-asked refund.
In addition, all our products carry a lifetime warranty against any manufacturing defects.
Free next day UK delivery on all orders over £50