32cm Copper Stew Pan
Cavernously large to meet your entertaining needs, this 32cm copper stewpan is ideal for slow cooking, but its versatility from hob to oven will inspire you to braise and poach as well. 2.5mm bimetal construction distributes heat evenly and ensures your recipes possess only pure food flavour. Low curved sides provide for expert reductions and moist thick stews. Satinated finishes make cleaning up easy when your banquet is done.
Extra large capacity for a dozen or more servings
2.5mm bimetal construction for superior thermal conductivity
Slow cooking and more for ultimate versatility
Curved profile and low sides for thick stews and reductions
As our versatile copper cookware feeds your culinary imagination, you can feed your throng with confidence. Falk Culinair. Dream big.
Falk Ref: INO2583SF
Diameter: 32cm (12.6")  Height: 11cm (4.3")  Capacity: 7.8 litres (16.5 pints)  Weight: 4.35 kgs (9.6 lbs)
Add the Falk 32cm Copper Stew Pan to your cart
Price
£310.00
IN STOCK
---
Add a Falk 32cm Copper Lid to your cart
Price
£110.00
IN STOCK
Customer Reviews
Showing 2 of 10 reviews see all reviews
"Kings of Kings" - Norm
I would recommend this product to a friend!
2016-03-31
Now this is large by any standard. Great for those gatherings of mixing up a big batch of chilli con carne, or trying your own mango chillie pepper sauce excellent for making and feeding for a large party of people.
517 customers found this review helpful. Did you? Yes, I did!
"Like this product" - Miss Hristova
I would recommend this product to a friend!
2015-07-28
If you wanna cook a dinner for 5 people( for example) this is your right choice! The last time when I cooked " tripe in Rome" I used it and the result was delicious food! When I have more visitor I recommend to cook in this cooper stew pan.
647 customers found this review helpful. Did you? Yes, I did!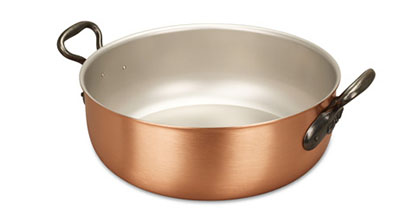 Rollover the image to zoom, or click to view this in high definition.
May we also suggest
£305.00
£270.00
£390.00
£110.00
The Falk Culinair Guarantee...
As you may already know, we provide a
"copper-bottomed" guarantee!
If you are not totally satisfied when you receive your Falk Copper Cookware, you can simply return this to us for a full, no-questions-asked refund.
In addition, all our products carry a lifetime warranty against any manufacturing defects.
Free next day UK delivery on all orders over £50