16cm Copper Rondeau
Adaptable to a variety of uses, our 16cm rondeau will dazzle with its versatility. Braising, stewing, poaching, roasting, browning, the list goes on. Ideally suited to slow cooking, this little stunner will put on a performance to remember.
Wide base provides a greater cooking area
Low sides facilitate evening browning
2.5mm patented bimetal construction for even heat distribution
Two loop handles for safe handling
From the hob to the oven, you're sure to be delighted with our multi-use 16cm rondeau that serves two to four people. Falk Culinair. Making more of your culinary ventures.
Falk Ref: INO2545SF
Diameter: 16cm (6.3")  Height: 5cm (2")  Capacity: 1 litre (2.1 pints)
Weight: 1.14 kgs (2.5 lbs)
Add the Falk 16cm Copper Rondeau to your cart
Price
£170.00
IN STOCK
---
Add a Falk 16cm Copper Lid to your cart
Price
£65.00
IN STOCK
Customer Reviews
Showing 1 of 1 reviews
"Small, but useful" - Ms Lee
I would recommend this product to a friend!
2014-08-03
Whenever I used my glass casserole, food gets scorched and sticks to the bottom.

But with this pan food does not stick due to its thickness. So I love it.
822 customers found this review helpful. Did you? Yes, I did!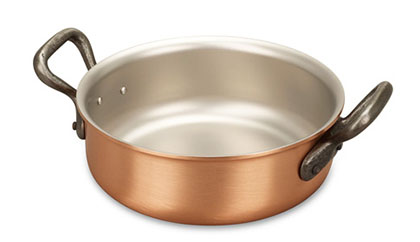 Rollover the image to zoom, or click to view this in high definition.
May we also suggest
£65.00
£195.00
£140.00
£165.00
The Falk Guarantee...
As you may already know, we provide a "copper-bottomed" guarantee!
If you are not totally satisfied when you receive your Falk Copper Cookware, you can simply return this to us for a full, no-questions-asked refund.
In addition, all our products carry a lifetime warranty against any manufacturing defects.
Free next day UK delivery on all orders over £50