28cm Copper Saucepan
This substantial 28cm solid copper saucepan will be easy and safe to lift due to the cast iron helper handle as well as the long, ergonomic handle which is one of our signature details. Individual attention to detail is as much a part of the manufacturing process today as in previous generations, yet Falk raises the bar by introducing 21st century patented bimetal technology for a cooking experience which is sure to exceed your expectations.
2.5mm bimetal construction for even heat distribution
High straight sides and flat bottom facilitate moisture retention
Non–reactive stainless interiors for pure food flavour
Ergonomic cast iron handle and helper handle for safe lifting
Copper conducts and distributes heat more evenly than any other cooking material on the market, while stainless steel's non–reactive properties ensure your food is pure and bursting with flavour. The largest of our saucepans, this 28cm classic beauty will wow you with its superb performance. Falk Culinair. We give you more.
Falk Ref: INO2519SF
Diameter: 28cm (11")  Height: 12cm (4.7")  Capacity: 8 litres (16.9 pints)  Weight: 4.27 kgs (9.4 lbs)
Add the Falk 28cm Copper Saucepan to your cart
Price
£380.00
IN STOCK
---
Add a Falk 28cm Copper Lid to your cart
Price
£95.00
IN STOCK
Customer Reviews
Showing 1 of 1 reviews
"Huge saucepan" - Mr Webb
I would recommend this product to a friend!
2014-08-03
This saucepan is enormous. It holds 8 litres of water when full making it the perfect utensil for large scale boiling. You can tell as soon as you pick it up that it was made by a craftsmen who cared about what he makes. Something to bequeath the children one day.
821 customers found this review helpful. Did you? Yes, I did!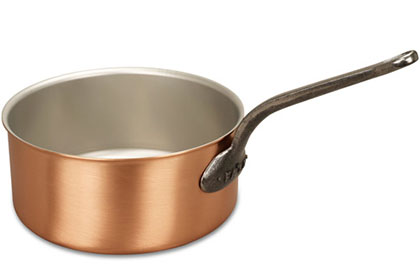 Rollover the image to zoom, or click to view this in high definition.
May we also suggest
£285.00
£350.00
£420.00
£325.00
The Falk Guarantee...
As you may already know, we provide a "copper-bottomed" guarantee!
If you are not totally satisfied when you receive your Falk Copper Cookware, you can simply return this to us for a full, no-questions-asked refund.
In addition, all our products carry a lifetime warranty against any manufacturing defects.
Free next day UK delivery on all orders over £50