28cm Copper Saucier Pan
This big bruiser will accommodate your feast worthy creations with ease. The generous proportions of our 28cm saucier possess the superior heat conductivity of solid copper so your delicate sauces and reductions will turn out perfect every time. Temperature, moisture, texture and flavour will all be optimised in this clever saucier with curved sides to facilitate stirring. Big ideas begin with Falk Culinair.
2.5mm patented bimetal construction for even heat distribution
Non–reactive stainless interiors for pure food flavour
Ergonomic helper handle for safe lifting
Curved profile to facilitate stirring
Manage a crowd–sized portion of your favourite sauced-based recipe like a pro with this 28cm saucier. Curved profile, helper handle, satinated surfaces that are easy to maintain. Falk Culinair. We place culinary success solidly in your grasp.
Falk Ref: INO2569SF
Diameter: 28cm (11")  Height: 8.5cm (3.3")  Capacity: 4.4 litres (9.3 pints)  Weight: 3.82 kgs (8.4 lbs)
Add the Falk 28cm Copper Saucier Pan to your cart
Price
£325.00
IN STOCK
---
Add a Falk 28cm Copper Lid to your cart
Price
£95.00
IN STOCK
Customer Reviews
Showing 2 of 3 reviews see all reviews
"Heavy duty!" - Michael
I would recommend this product to a friend!
2015-07-31
This huge saucier is a really heavy duty piece of equipment, and has the capacity to deal with large jobs that other pans couldn't handle, like wilting large volumes of vegetables or leaves. The ability to heat it to a high temperature, combined with the high heat capacity of thick copper, also make proper stir-frying possible, without a super-powerful flame.
949 customers found this review helpful. Did you? Yes, I did!
"A beast of a pan!!!" - Mr Browning
I would recommend this product to a friend!
2014-07-29
I decided to buy this after seeing Nigel Slater cooking with Falk copper pans.

This pan is HUGE and has many different uses. I love the extra handle on the front which makes it easy to move around even when completely full.

The thick copper is a dream to cook with. Excellent build quality and easy to clean after use. Plus it looks great!
1020 customers found this review helpful. Did you? Yes, I did!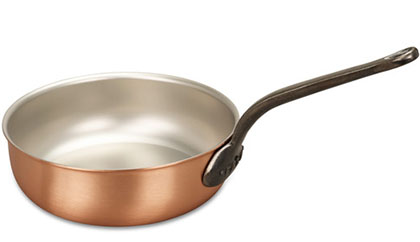 Rollover the image to zoom, or click to view this in high definition.
May we also suggest
£95.00
£240.00
£290.00
£380.00
The Falk Guarantee...
As you may already know, we provide a "copper-bottomed" guarantee!
If you are not totally satisfied when you receive your Falk Copper Cookware, you can simply return this to us for a full, no-questions-asked refund.
In addition, all our products carry a lifetime warranty against any manufacturing defects.
Free next day UK delivery on all orders over £50