32cm Round Copper Au Gratin Pan
It's party time with this 32cm round au gratin, and your feast is about to enter a new era of excellence. Whether placed on the hob for a succulent paella, or into the oven for something divinely browned or roasted, this generously proportioned vessel will prove its worth.
2.5mm bimetal construction for even heat distribution and purity of flavour
Low sides and flat bottom to facilitate browning
Satinated finish for easy washing up
Yields 12 or more generous servings
Patented bimetal technology, heirloom quality, satinated surfaces for easy cleanup, ergonomic cast iron handles, durability, performance and service that puts us in a league of our own. Falk Culinair. Prepare to be dazzled.
Falk Ref: INO2511SF
Diameter: 32cm (12.6")  Height: 5.6cm (2.2")  Capacity: 3.8 litres (8 pints)  Weight: 3.2 kgs (7.1 lbs)
Add the Falk 32cm Round Copper Au Gratin Pan to your cart
Price
£305.00
IN STOCK
---
Add a Falk 32cm Copper Lid to your cart
Price
£115.00
IN STOCK
Customer Reviews
Showing 2 of 7 reviews see all reviews
"The biggest 'frying pan' you will ever likely use!!" - Howard
I would recommend this product to a friend!
Falk 32cm Round Copper Au Gratin Pan
2019-07-01
I purchased this Gratin Pan rather than a frying pan so that I could also use it in the oven as my cooker will not accommodate the handle of a frying pan.

Like all Falk products, it is a bi-metal construction, copper on the outside for good heat conduction and stainless steel inside to provide durability and provide a safe contact surface for virtually all food types.

The conduction of the copper gives such good even heating that 'hot' spots are minimised avoiding burn on and achieves easy cleaning after use.

Having two ring handles makes is great on the stove top and in the oven.

It is the large and yes it makes a great paella pan, it's brilliant at frying steak and as I already possessed a 32cm lid its possibilities are endless.

An additional feature is that these look so good they can also be used as serving dishes on the table.

One word of warning however, due to its excellent heat conduction, the cast iron handles become very hot so always use a pan holder cloth.
222 customers found this review helpful. Did you? Yes, I did!
"One of the best" - Miss Ogwuma
I would recommend this product to a friend!
Falk 32cm Round Copper Au Gratin Pan
2019-06-29
A versatile pan for paella, tortillas, roasts, and even as an extra frying pan for those delicious Sunday breakfasts. A really easy pan to clean, and comfortable to use. Definitely a necessary addition to my kitchen.
203 customers found this review helpful. Did you? Yes, I did!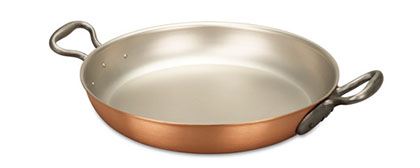 Rollover the image to zoom, or click to view this in high definition.
May we also suggest
£115.00
The Falk Guarantee...
As you may already know, we provide a "copper-bottomed" guarantee!
If you are not totally satisfied when you receive your Falk Copper Cookware, you can simply return this to us for a full, no-questions-asked refund.
In addition, all our products carry a lifetime warranty against any manufacturing defects.
Free next day UK delivery on all orders over £50