32cm Round Copper Au Gratin Pan
It's party time with this 32cm round au gratin, and your feast is about to enter a new era of excellence. Whether placed on the hob for a succulent paella, or into the oven for something divinely browned or roasted, this generously proportioned vessel will prove its worth.
2.5mm bimetal construction for even heat distribution and purity of flavour
Low sides and flat bottom to facilitate browning
Satinated finish for easy washing up
Yields 12 or more generous servings
Patented bimetal technology, heirloom quality, satinated surfaces for easy cleanup, ergonomic cast iron handles, durability, performance and service that puts us in a league of our own. Falk Culinair. Prepare to be dazzled.
Falk Ref: INO2511SF
Diameter: 32cm (12.6")  Height: 5.6cm (2.2")  Capacity: 3.8 litres (8 pints)  Weight: 3.2 kgs (7.1 lbs)
Add the Falk 32cm Round Copper Au Gratin Pan to your cart
Price
£290.00 £217.50
IN STOCK
---
Add a Falk 32cm Copper Lid to your cart
Price
£110.00 £82.50
LOW STOCK
Customer Reviews
Showing 2 of 4 reviews see all reviews
"Brilliant pan!" - Mrs Asquith
I would recommend this product to a friend!
Falk 32cm Round Copper Au Gratin Pan
2016-07-04
This is my latest acquisition to my Falk collection, as well as, a 32cm
lid, and I am desperately trying to find, something that I could say, that, maybe Falk hadn't got it quite right?

But! Once again, I'm speechless, 100% perfection in goods and service.
I made some awesome jerk chicken in this pan for unexpected visitors.

My pan was brilliant, as well as cooking the food evenly, it saved me time,
as it was served straight from the oven to the table (it actually saves on
the washing -up as well ) I was on a roll, my visitors next meal, was a risotto, one pan, one mega meal for seven.

My collection of Falk pans are truly value for money, I've already been in touch with Falk for my next purchase, a 18cm pan, that it's soul purpose will be for making souffl. Falk are actually, making this possible for me, by getting a 18cm pan delivered without the handle.

This is such fantastic customer service!
341 customers found this review helpful. Did you? Yes, I did!
"The most amazing pan" - Mrs Shin
I would recommend this product to a friend!
Falk 32cm Round Copper Au Gratin Pan
2015-01-08
I have a decent collection of copper and enamelled cast iron pans...but this pan has become my favorite. Its size is big enough for my Family and guest. The pan also looks great in my dining tables. The balance is outstanding and heat distribution, expectedly amazing. Bought the lid separately. If I were to choose one pan for my cooking, this would be it.
540 customers found this review helpful. Did you? Yes, I did!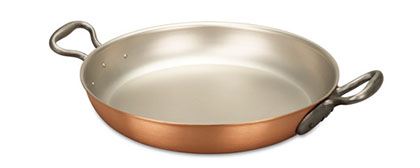 Rollover the image to zoom, or click to view this in high definition.
May we also suggest
£275.00 £206.25
£295.00 £221.25
£195.00 £146.25
£110.00 £82.50
The Falk Culinair Guarantee...
As you may already know, we provide a
"copper-bottomed" guarantee!
If you are not totally satisfied when you receive your Falk Copper Cookware, you can simply return this to us for a full, no-questions-asked refund.
In addition, all our products carry a lifetime warranty against any manufacturing defects.
Free next day UK delivery on all orders over £50