35 x 23cm Copper Lid
Bespoke rectangular lid custom designed to fit seamlessly on our 35cm x 23cm roasting pan. Create braised dishes, pot roasts and more with this fine accessory to our superb roasting tin. Copper cookware at its finest, covers that enhance our excellent range, thats Falk Culinair.
Falk Ref: INO1058SF
35cm x 23cm (13.8" x 9.1")  Weight: 0.61 kg (1.3 lbs)
Add the Falk 35 x 23cm Copper Lid to your cart
Price
£85.00
IN STOCK
Customer Reviews
Showing 2 of 3 reviews see all reviews
"The Question : To buy or not to buy ?" - Mr Moor
I would recommend this product to a friend!
2016-01-08
Let me tell you why I decided to buy:

It's the only cover/lid to fit the roasting pan, made especially to go together.

When not in use they complete the "display look", classic design, a real thing of beauty to behold.

When cooking the cover/lid enables the roasting pan to be used for many more dishes and serving preparations, so increasing the pans depth and the possibilities for you in the kitchen over a wide range of recipes domestically and internationally.

I know it's an investment, one that has paid me back in so many ways.

I am so pleased I decided to buy it, you will too.
531 customers found this review helpful. Did you? Yes, I did!
"Complements roasting pan perfectly" - Robert
I would recommend this product to a friend!
2014-08-03
Truth be told, this does not see much use as it is specific to the Falk roasting pan and when a joint sticks out you don't wish to balance a lid on it.

However, the roasting pan doubles up as a general utensil for stewing / frying up stuff in, and that's where it comes in useful as it acts as a general lid. Money certainly not wasted!
560 customers found this review helpful. Did you? Yes, I did!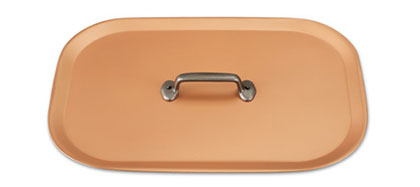 Rollover the image to zoom, or click to view this in high definition.
May we also suggest
The Falk Culinair Guarantee...
As you may already know, we provide a
"copper-bottomed" guarantee!
If you are not totally satisfied when you receive your Falk Copper Cookware, you can simply return this to us for a full, no-questions-asked refund.
In addition, all our products carry a lifetime warranty against any manufacturing defects.
Free next day UK delivery on all orders over £50