14cm Copper Casserole
Our most compact casserole ever, possessing all the performance enhancing abilities of solid copper just like its larger counterparts. Useful, versatile, attractive, this little casserole accommodates single servings with real panache. Hob to oven versatility, cast iron handles, and sleek lines. Side dishes, sauces, and accompaniments are displayed beautifully in this little champ.
Rustic cast iron handles
2.5mm bimetal construction for even heat distribution
High sides for moisture retention
Hygienic stainless steel interior
As individual as you are! This stunning mini casserole will become a delightful addition to your collection.
Falk Ref: INO2520SF
Diameter: 14cm (5.5")  Height: 7.4cm (2.9")  Capacity: 1.1 litres (2.3 pints)  Weight: 0.86 kgs (1.9 lbs)
Add the Falk 14cm Copper Casserole to your cart
Price
£130.00
IN STOCK
---
Add a Falk 14cm Copper Lid to your cart
Price
£55.00
IN STOCK
Customer Reviews
Showing 2 of 3 reviews see all reviews
"Brilliant, Brilliant, Brilliant Little Pan!" - Susan
I would recommend this product to a friend!
2018-02-15
We all like to get as much as we can for our hard earned money and so at first glance, it might seem a waste to spend so much on such a small pan. You couldn't be more wrong: This pan will cover areas that the larger pans can't and won't.

I bought this to use for doing single quantity recipes for myself, when my husband who is a roast and veg man would prefer something else.

I am quite mesmerised by this little pan as it's a miniature version of the other Falk casserole pans with all the same benefits in cooking with it.

It enables me to prepare very small quantities for myself such as curries, chilli etc, without it being spread out across the base too thinly whereby it would burn and dry out.

Great for boiling peas, eggs, making small quantities of sauces etc.

Wouldn't be without this one, as none of my other pans will allow me to cook the small quantities I can in this one.

Well Done Falk Culinair. As always, you think of everything!
489 customers found this review helpful. Did you? Yes, I did!
"Perfect" - Andrew
I would recommend this product to a friend!
2017-01-24
This pan is the perfect size for a decent stew for one, with enough for seconds! I'm so glad that I found Falk, the pans are well made and strong and with a decent weight, so they don't slide over the cooker.
684 customers found this review helpful. Did you? Yes, I did!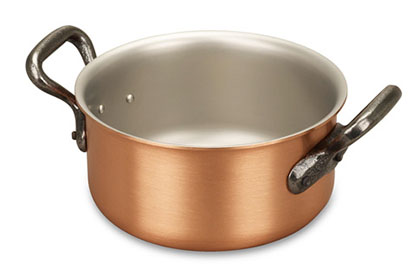 Rollover the image to zoom, or click to view this in high definition.
May we also suggest
£140.00
£55.00
£170.00
£135.00
The Falk Guarantee...
As you may already know, we provide a "copper-bottomed" guarantee!
If you are not totally satisfied when you receive your Falk Copper Cookware, you can simply return this to us for a full, no-questions-asked refund.
In addition, all our products carry a lifetime warranty against any manufacturing defects.
Free next day UK delivery on all orders over £50