28cm Copper Steamer
Solid copper steamer with stainless steel interior. Energy efficient vessel, combined with cutting edge bimetal technology. Clever stream lined design with narrow bottom to raise foods above the level of cooking liquid used to produce steam. Copper maintains and conducts heat better and more effectively than any other material used in cookware. Highly reactive to changes in temperature too for more control.
Patented 2.5mm bimetal construction
Useful steaming insert
Multi purpose vessel
Ergonomic cast iron handles
Cook smart, cook healthy with this versatile steamer. When used for its primary purpose, steaming, flavours are intense, colour vibrant, texture crisp and succulent, nutrients are retained and food is never water logged. Also can be used for braising, deep-frying, and is truly brilliant for pasta.
Falk Ref: INO2501SF
Diameter: 28cm (11") Height: 14cm (5.5") Capacity: 7.6 litres (13.4 pints) Weight: 3.4 kgs (7.51 lbs)
Add the Falk 28cm Copper Steamer to your cart
Price
£470.00
ONLY ONE REMAINING!
---
Add a Falk 28cm Copper Lid to your cart
Price
£95.00
IN STOCK
Customer Reviews
Showing 2 of 5 reviews see all reviews
"Steaming!" - Stephen
I would recommend this product to a friend!
2022-02-06
Steamer of generous proportions and so well made.
Versitile and effecient

32 customers found this review helpful. Did you? Yes, I did!
"Lovely sleek contours" - Gigi
I would recommend this product to a friend!
2019-06-29
A beautiful looking steamer pan, and a joy to cook with. I use this a normal pan for stews casseroles, soups,pasta, almost everything in fact! The pan also comes with a steamer insert which makes it perfect to steam a variety of foods. Both the pan and the steamer insert are easily cleaned. It has quickly become one of my favourite pieces.
231 customers found this review helpful. Did you? Yes, I did!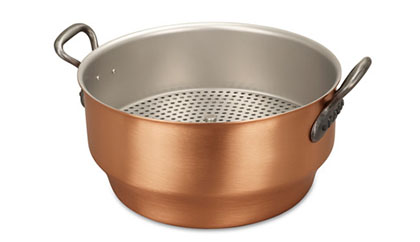 Rollover the image to zoom, or click to view this in high definition.
May we also suggest
The Falk Guarantee...
As you may already know, we provide a "copper-bottomed" guarantee!
If you are not totally satisfied when you receive your Falk Copper Cookware, you can simply return this to us for a full, no-questions-asked refund.
In addition, all our products carry a lifetime warranty against any manufacturing defects.
Free next day UK delivery on all orders over £50