20cm Copper Pot au Feu
The 20 cm Pot Au Feu delivers everything you've come to depend on with Falk cookware while distinguishing itself from the pack with features that make it a food enthusiast's dream. This new must-have darling of the Falk product line-up is sleek, attractive and versatile.
With its curved sides, it's a natural stand-in for the stew pan, while providing higher sides than a traditional casserole, yet less volume than our massive cauldrons. Ideal for soups, stews, large portions of pasta or mash, yet designed to transition from oven to table where it makes a beautiful serving piece.
All of this, plus copper's even heat distribution to eliminate hot spots and maintain consistent temperatures, a flared lip for pouring, two indestructible cast iron handles, a brushed finish to provide an easy to care for product.
Higher sides than traditional casseroles-but not as huge as a cauldron
Perfect for soups, mashed potatoes, large portions of pasta
Spherical sides similar to the saucier for easy stirring
Ideal as stew pan for larger quantities
Ideal for cheese fondues
Falk Ref: INO2587SF
Diameter: 20cm (7.9")  Height: 12.7cm (5")  Capacity: 3.35 litres (5.9 pints)  Weight: 2.34 kgs (5.1 lbs)
Add the Falk 20cm Copper Pot au Feu to your cart
Price
£235.00
IN STOCK
---
Add a Falk 20cm Copper Lid to your cart
Price
£75.00
IN STOCK
Customer Reviews
Showing 2 of 4 reviews see all reviews
"Beautiful thing to behold!" - Mrs Shin
I would recommend this product to a friend!
2019-06-26
I am loving this pot au feu pot., it heats much more evenly throughout. So far, I have made a couple of soups, stews, and chicken and dumplings in this pot using lower heat and getting much better results. With such tall sides it has a lovely shape ! what a beautiful cookware to have
I highly recommend this to anyone who loves to cook
221 customers found this review helpful. Did you? Yes, I did!
"One pot stop" - Malcolm
I would recommend this product to a friend!
2019-06-24
Quality products that will last a lifetime.

On the larger size pans found the casserole and Pot au feu- with the double handles easier to handle than the conventional pots with a single handle.

Empty - the weight of pans/ pots for the young/ older person can be a limitation and when full of hot produce / larger diameter has additional problems- hence the benefits of the double handles.

I've waited a lifetime to purchase "my babies", they are used daily for all manner of goodies and my grand children are now learning to cook with these. The next generation of Falk customers!!!

Keep up the high standards and quality products.

Malcolm
211 customers found this review helpful. Did you? Yes, I did!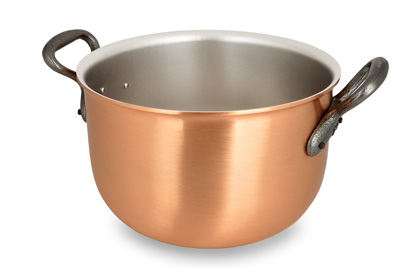 Rollover the image to zoom, or click to view this in high definition.
May we also suggest
£75.00
£235.00
£205.00
£310.00
The Falk Guarantee...
As you may already know, we provide a "copper-bottomed" guarantee!
If you are not totally satisfied when you receive your Falk Copper Cookware, you can simply return this to us for a full, no-questions-asked refund.
In addition, all our products carry a lifetime warranty against any manufacturing defects.
Free next day UK delivery on all orders over £50