A mailing list with a difference...
it pays to subscribe!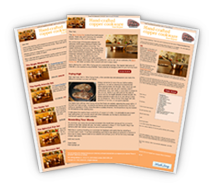 We appreciate that heirloom quality cookware is expensive, so try and make this as affordable as possible for our customers by creating periodic offers and sales.
When you join our newsletter list, you will be the first to know:
When we are holding our next clearance sale
About the current "Piece of the month" promotion, (you could save thousands)
When we introduce new products
In fact we alert you to everything you should need to know relating to Falk Culinair and copper cookware. Very easy to cancel, simply click the unsubscribe link which is at the bottom of each email we send.
Your details will never be passed to any other organisation, or used for any other purpose other than keeping you updated on our product range and offers.
What are you waiting for?
Some of our recent offers...