The new Falk Culinair website
New and improved in every section, the Falk Culinair UK website has been completely re-built with the aid of customer feedback to ensure it's user-friendly and that you can find whatever you're looking for quickly.
A new clean look...
We're delighted with the look of our new site. Bright and colourful, it gives us room to display the full range or Falk Culinair products in all their natrual beauty.
Easy to search and navigate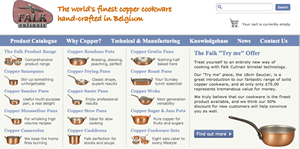 We have made site navigation a priority.
The graphical menu at the top of each page shows the different product types we have available; clicking on each will take you to a page showing the different sizes and types of each product.
There is now a powerful search feature built into the site, which will display all the products matching the search term in descending order of relevance.
Find whatever you are looking for instantly!
Viewing our products

Every product page displays a high-resolution image of the item.
To view this in fine detail, just hover over the image to zoom in.
We have also created a series of videos showing the different products in use.
Customer reviews & comments

Customer reviews and comments are now enhanced and appear on every product page.
We actively encourage customers to post reviews (good or bad) of the products they have purchased for the benefit of our customers looking at these.
Stock availability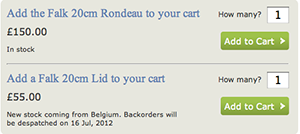 We stock the complete Falk Culinair product range here in the UK so that this available for next day delivery.
The stock availability information for each item is displayed live from our database. When you, or another customer, place an order, the product(s) are reserved immediately, and the available stock levels updated.
When an item is 'sold out', we display the date it will be available for despatch instead. A items ordered will be despatched immediately, and these will follow, with no additional delivery charge.
Interactive shopping cart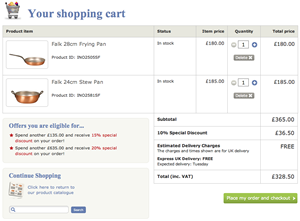 The products you have added to your shopping cart are clearly displayed, with the quantities easily changed.
We all appreciate saving money, and with this in mind we have introduced a new discount structure where orders over £300 receive a discount of between 10% and 20%.
In the spirit of transparency, these discounts are now applied automatically as you checkout, without having to enter any hard-to-find discount codes, etc. You can also see how close you are to the next level of discount, with other eligible offers and promotions clearly displayed.
Live help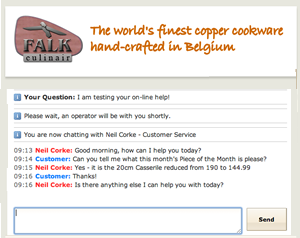 Live help is available during normal business hours - and often outside business hours!
Simply click the Live Help button to the left of your window to engage one of our customer service team who will be happy to answer any questions you may have regarding our products, or your order.
If Live Help is not available please just send us an email and we will respond to you as soon as possible.
Finally, we have an extensive Knowledgebase containing previous questions and answers relating to our products available - to access this just click the "Knowledgebase" button in the menu bar.
Manage your account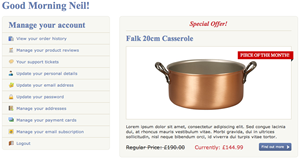 You can manage your Falk Culinair account from one location, including:
Update your personal details and preferences
Manage your address book
View your order history
Manage your product reviews
View your emails with Customer Service
The current "Piece of the Month" is also displayed here!
Thanks to everyone who worked on the new website, in particular Steve Wakeham our photographer, Sumenna Rakwal at Our Designz and Vikram Vaswani at Melonfire