Customer reviews for the
Falk 30 x 20cm Oval Copper Frying Pan
Falk Ref: INO2579SF
Read what other customers who have bought this product have to say, or if you already own this product yourself, please post your own review...
Login and write a review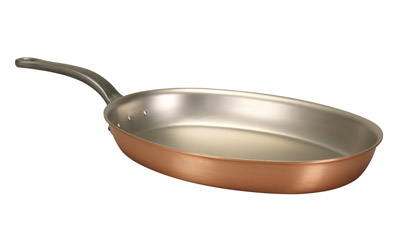 "My New Arrival." -
Mr Moor
Having just received my new oval copper frying pan and lid, which looks great and goes together so well, I was inspired to put them to work straight away. It is a dream! I had thought to use it for fish dishes mainly, however it is so versatile I am using it for so many more meals and preparations. If you don't have this item in your kitchen yet, then really try it and you will wonder how it is that you have managed without it for so long, I did. A great piece of essential cook wear.
Falk 30 x 20cm Oval Copper Frying Pan
2015-07-23
Published: Thursday, 23 July 2015
499 customers found this review helpful. Did you? Yes, I did!