18cm Copper Saucepan
Contemporary innovation meets timeless quality with this 18cm solid copper saucepan. The even heat distribution and thermal conductivity which is copper's signature, is alchemically bonded to a fine layer of stainless steel creating an eminently useful, dependable product. Non–reactive stainless steel ensures food tastes as it should while the satinated surfaces make washing up easy.
2.5mm bimetal construction for even heat distribution
Non–reactive stainless interiors for pure food flavour
High straight sides and flat bottom for optimum moisture retention
Satinated surfaces facilitate easy clean up
Beauty, intelligent design, classic craftsmanship, energy efficient cooking. At Falk Culinair you can expect more.
Falk Ref: INO2516SF
Diameter: 18cm (7.1")  Height: 8.7cm (3.4")  Capacity: 2.2 litres (4.6 pints)  Weight: 2 kgs (4.4 lbs)
Add the Falk 18cm Copper Saucepan to your cart
Price
£175.00 £131.25
IN STOCK
---
Add a Falk 18cm Copper Lid to your cart
Price
£60.00 £45.00
IN STOCK
Customer Reviews
Showing 2 of 22 reviews see all reviews
"Excellent product" - Anthony O'Toole
I would recommend this product to a friend!
2019-01-20
As a professional chef, I've been on the hunt for proper copper pots for quite a while. They are perfect. Exactly the type of pot you would find in the best kitchens around the world. Chefs love them as they are great heat conductors, easy to clean and last a lifetime.
23 customers found this review helpful. Did you? Yes, I did!
"Wedding present" - Maureen
I would recommend this product to a friend!
2017-07-08
What a beautiful saucepan. This will be loved for a lifetime
276 customers found this review helpful. Did you? Yes, I did!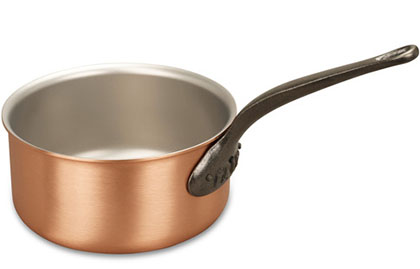 Rollover the image to zoom, or click to view this in high definition.
May we also suggest
£210.00 £157.50
£60.00 £45.00
£180.00 £135.00
£170.00 £85.00
The Falk Culinair Guarantee...
As you may already know, we provide a
"copper-bottomed" guarantee!
If you are not totally satisfied when you receive your Falk Copper Cookware, you can simply return this to us for a full, no-questions-asked refund.
In addition, all our products carry a lifetime warranty against any manufacturing defects.
Free next day UK delivery on all orders over £50