18cm Copper Saucepan
Contemporary innovation meets timeless quality with this 18cm solid copper saucepan. The even heat distribution and thermal conductivity which is copper's signature, is alchemically bonded to a fine layer of stainless steel creating an eminently useful, dependable product. Non–reactive stainless steel ensures food tastes as it should while the satinated surfaces make washing up easy.
2.5mm bimetal construction for even heat distribution
Non–reactive stainless interiors for pure food flavour
High straight sides and flat bottom for optimum moisture retention
Satinated surfaces facilitate easy clean up
Beauty, intelligent design, classic craftsmanship, energy efficient cooking. At Falk Culinair you can expect more.
Falk Ref: INO2516SF
Diameter: 18cm (7.1")  Height: 8.7cm (3.4")  Capacity: 2.2 litres (4.6 pints)  Weight: 2 kgs (4.4 lbs)
Add the Falk 18cm Copper Saucepan to your cart
Price
£195.00
IN STOCK
---
Add a Falk 18cm Copper Lid to your cart
Price
£70.00
IN STOCK
Customer Reviews
Showing 2 of 30 reviews see all reviews
"Depth of charge" - Mr McDougall
I would recommend this product to a friend!
2020-09-15
Can get plenty of soup and vegetables in it and to stir without food over flowing stays great and piping hot Solid build quality
134 customers found this review helpful. Did you? Yes, I did!
"Functional, beautiful, iconic." - Graham
I would recommend this product to a friend!
2019-06-25
Really?

Without doubt these pans are engineered to a very high standard.

Just a few minutes reviewing their construction, feeling the quality of the finish and using them for the first time will convince you they're built to last.

I can also confirm with a little care the finish retains its beauty wash after wash.Even on my stove whilst in service friends have commented on how wonderful they look.

A few have even bought their own pans after seeing mine!

Iconic? I know it's a pan right…

Well if you care about what you cook, you'll also care about how it's cooked and that means having the right tools for the job in hand. Try this, close your eyes and imagine what the best pan in the world would look like?

No doubt it's copper and no doubt it will be built to last.

Now go look at the Falk pan in the size you want.

I prevaricated for far too long.

Now what are you waiting for?

Happy cooking!
254 customers found this review helpful. Did you? Yes, I did!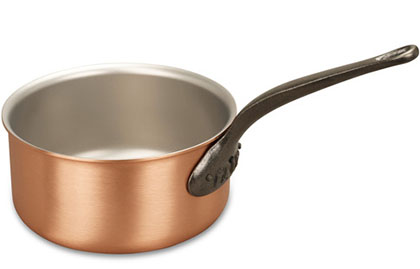 Rollover the image to zoom, or click to view this in high definition.
May we also suggest
£230.00
£70.00
£195.00
£180.00 £90.00
The Falk Guarantee...
As you may already know, we provide a "copper-bottomed" guarantee!
If you are not totally satisfied when you receive your Falk Copper Cookware, you can simply return this to us for a full, no-questions-asked refund.
In addition, all our products carry a lifetime warranty against any manufacturing defects.
Free next day UK delivery on all orders over £50