18cm Copper Lid
Constructed of our patented 1.0mm bimetal, this lid fits four of our solid copper vessels. The satinated finish makes cleaning up simple while the ergonomic cast iron handle fits the hand comfortably.
Seamlessly fits the following pieces:
Cover all your assets with Falk Culinair.
Falk Ref: INO1051SF
Diameter: 18cm (7.1")   Weight: 0.31 kgs (0.7 lbs)
Add the Falk 18cm Copper Lid to your cart
Price
£60.00 £45.00
IN STOCK
Customer Reviews
Showing 2 of 58 reviews see all reviews
"A neat little lid" - Howard
I would recommend this product to a friend!
2019-07-01
This is actually the smallest of the Falk lids that I own and I purchased it compliment the 18cm saucier. Like all Falk products, it is a bi-metal construction, copper on the outside for good heat conduction and stainless steel inside to provide durability and provide a safe contact surface for virtually all food types.

It also fits my 18cm stew pan so is great on the stove top and in the oven.

It forms a good seal and with the pan so enhances the speed and evenness of cooking.

One word of warning however, due to its excellent heat conduction, the cast iron handle on top can become very hot so always use a pan holder cloth to avoid burning your hand.
38 customers found this review helpful. Did you? Yes, I did!
"Nice little lid" - Gigi
I would recommend this product to a friend!
2019-06-29
A good item. well made and easy to clean. Initially, I didn't think I would need one, however I soon realised my mistake! Its a really useful purchase and a lot easier than balancing a saucer, etc on the pan.
36 customers found this review helpful. Did you? Yes, I did!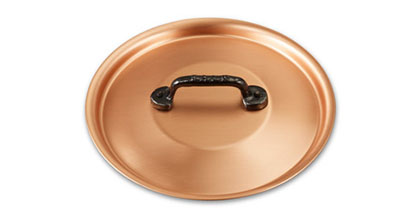 Rollover the image to zoom, or click to view this in high definition.
May we also suggest
£175.00 £131.25
£180.00 £135.00
£170.00 £85.00
£115.00 £86.25
The Falk Culinair Guarantee...
As you may already know, we provide a
"copper-bottomed" guarantee!
If you are not totally satisfied when you receive your Falk Copper Cookware, you can simply return this to us for a full, no-questions-asked refund.
In addition, all our products carry a lifetime warranty against any manufacturing defects.
Free next day UK delivery on all orders over £50