28cm Copper Lid
Seamless coverage for a tight fit on each of the twelve pieces this lid corresponds with. Satinated surfaces make clean up a breeze while the glowing copper compliments the ergonomic cast iron handle.
Fitting snugly on the following pieces:
Kepping your culinary assets covered. Falk Culinair.
Falk Ref: INO1055SF
Diameter: 28cm (11")  Weight: 0.64 kg (1.4 lbs)
Add the Falk 28cm Copper Lid to your cart
Price
£85.00
IN STOCK
Customer Reviews
Showing 2 of 40 reviews see all reviews
"Copper Chef Set Purchased" - Mr Ksiazkiewicz
I would recommend this product to a friend!
2019-09-22
This was part of the Copper Chef Set that we purchased for my daughter and her soon to be husband. They have found it to be exactly what they wanted. The quality is excellent and they were absolutely thrilled with it's performance! This is a gift that will last a lifetime. Would highly recommend to anyone that is inclined to cooking with high quality and reliable kitchen cooking sets. If copper is good enough for the Queen's kitchen, it's good enough for us and Falk makes the best product.
61 customers found this review helpful. Did you? Yes, I did!
"A perfect match for all the Falk 28cm pans" - Howard
I would recommend this product to a friend!
2019-07-01
Like all Falk products, it is a bi-metal construction, copper on the outside for good heat conduction and stainless steel inside to provide durability and provide a safe contact surface for virtually all food types.

The conduction of the copper gives such good even heating that 'hot' spots are minimised avoiding burn on and achieves easy cleaning after use.

This lid was purchased to compliment my 28cm Rondeau pan and makes it more versatile both on the stove top and in the oven.

One word of warning however, due to its excellent heat conduction, the cast iron handle becomes very hot so always use a pan holder cloth to avoid burning your hand.
81 customers found this review helpful. Did you? Yes, I did!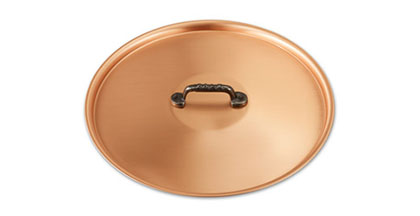 Rollover the image to zoom, or click to view this in high definition.
May we also suggest
£305.00
£270.00
£315.00
£280.00
The Falk Guarantee...
As you may already know, we provide a "copper-bottomed" guarantee!
If you are not totally satisfied when you receive your Falk Copper Cookware, you can simply return this to us for a full, no-questions-asked refund.
In addition, all our products carry a lifetime warranty against any manufacturing defects.
Free next day UK delivery on all orders over £50