35 x 23cm Copper Roasting Pan
Meats roast succulently in this 35 x 23cm roasting tray with Falk patented 2.5mm bimetal construction. Delicate caramelisation, the optimum flavour enhancement of roasting, is effortlessly achieved in this splendid roasting tray without scorching. Deglazing the pan for sauce and gravy is accomplished with ease due to the satinated surface of the stainless steel interior.
Low sides facilitate ideal roasting conditions
Satinated surfaces for flawless gravies and caramelisation
2.5mm patented bimetal construction
Two loop handles for safe lifting
We can't promise you'll be a better cook with our cookware, but we're confident that you'll experience improved results with this outstanding solid copper roasting pan. Sunday lunch with Falk Culinair. Solid!
Falk Ref: INO2572SF
35cm x 23cm (13.8" x 9.1")  Height: 7cm (2.8")  Capacity: 5.6 litres (11.8 pints)  Weight: 3.25 kgs (7.2 lbs)
Add the Falk 35 x 23cm Copper Roasting Pan to your cart
Price
£345.00
LOW STOCK
---
Add a Falk 35 x 23cm Copper Lid to your cart
Price
£85.00
IN STOCK
Customer Reviews
Showing 2 of 20 reviews see all reviews
"Perfect Roasting Pan" - Ms Trudi Wager
I would recommend this product to a friend!
Falk 35 x 23cm Copper Roasting Pan
2018-01-06
I have used this roasting pan several times now - easy to use with handles either end - use oven mits, takes a large Chicken or rolled sirloin joint for 10 people easily - because of the excellent heat conduction easy to brown joints of sirloin without too much oil and make a tasty sauce from the 'bits' on the bottom of the pan - great for serving at the table - easy to clean - a wonderful pan to cook with
150 customers found this review helpful. Did you? Yes, I did!
"This Roasting Pan" - Felicity
I would recommend this product to a friend!
Falk 35 x 23cm Copper Roasting Pan
2017-06-24
I recently purchased the Roasting Pan in the summer sale, which I had been ogling for months and didn't know if I could justify the expense. Oh my god I am sooo glad that I did. I can't figure out what I prefer, the beauty and thrill of cooking with it, or the ease with which it is washed up. I recently cooked a pomegranate molasses glazed roast chicken, with glazed onions as well and once I had finished cooking I could see all the burnt, black bits and was a little nervous about how I was going to clean it.I left the pan with a few centimetres of water in while we ate dinner, then 15 minutes returned to wash it up and it washed clean with near enough no effort on my part. This is now my 6th purchase from Falk and I could not be more impressed with the impeccable service provided by Neil.These have literally changed the way I cook and made cooking with them something that I look forward to every day.
204 customers found this review helpful. Did you? Yes, I did!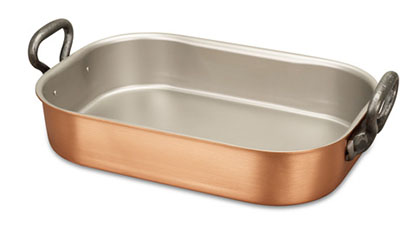 Rollover the image to zoom, or click to view this in high definition.
May we also suggest
£1,385.00 £970.00
The Falk Culinair Guarantee...
As you may already know, we provide a
"copper-bottomed" guarantee!
If you are not totally satisfied when you receive your Falk Copper Cookware, you can simply return this to us for a full, no-questions-asked refund.
In addition, all our products carry a lifetime warranty against any manufacturing defects.
Free next day UK delivery on all orders over £50