18cm Copper Casserole
This sleek 18cm copper casserole is ideal when serving approximately four servings. Whether used on the hob or in the oven with a lid, the result will be tenderly cooked vegetables and succulent meats. Falk Culinair's bimetal technology combines a solid 2.3mm copper plate, for its outstanding regulation of temperature and superb heat distribution, with a fine 200 micron layer of stainless steel for its easy care and non–reactive attributes. The ergonomic cast iron handles are virtually indestructible too!
Patented 2.5mm bimetal construction for even heat distribution
Non–reactive stainless interior
Serves four generous portions
Two ergonomic cast iron handles for safe lifting
Meeting the demands of the 21st century, Falk's patented bimetal construction provides a modern twist to a culinary classic. Satinated surfaces for ease of care. Falk Culinair. Solid copper cookware on the cutting edge.
Falk Ref: INO2522SF
Diameter: 18cm (7.1")  Height: 8.7cm (3.4")  Capacity: 2.2 litres (4.6 pints)  Weight: 1.83 kgs (4 lbs)
Add the Falk 18cm Copper Casserole to your cart
Price
£180.00 £135.00
IN STOCK
---
Add a Falk 18cm Copper Lid to your cart
Price
£60.00 £45.00
IN STOCK
Customer Reviews
Showing 2 of 4 reviews see all reviews
"Lovely Casserole Dish" - Miss Chapman
I would recommend this product to a friend!
2017-04-13
This is my third purchase from Falk, along with the 18cm lid. Along with the lid one of the most diverse pots I have ever had. I have used this for rice, pasta, a beef slow cooked casserole, a chicken curry and for tomato soup. This pot glides from the hob, to the oven, to the table and the sink. I was really worried having cooked beef in it for 7 hours that the meat would all be stuck to the bottom, and this was easily the quickest wash up I have ever done. Could not be more pleased with this purchase and cannot wait to see what is the Piece of the Month next! Thank you Falk yet again.
363 customers found this review helpful. Did you? Yes, I did!
"18cm casserole with no handles!" - Mrs Asquith
I would recommend this product to a friend!
2016-08-02
I telephoned Mr Corke, and asked if it was possible to order the 18cm casserole without the handles, as always, Falk customer service is expectational. Without hesitation a phone call was made to the factory and my order was placed. This didn't take weeks to receive, it only took days!

The intention for this pan, was to use it as a soufflé dish!

Result!

Was a perfect soufflé, what else would i expect from, quality made pans.

My next idea for it's use, is to bake a raised pie in it.

But! I already have a 18cm lid, so this casserole is not being left in the cupboard not being used. The list is endless....

Warming the casserole dish, in my oven warming draw, and then using it as a serving dish on the table. I have also used it as a actual casserole dish in the oven, it still works without the handles!

Mrs Asquith
467 customers found this review helpful. Did you? Yes, I did!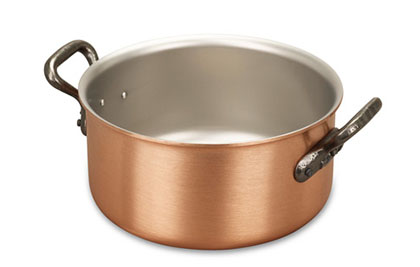 Rollover the image to zoom, or click to view this in high definition.
May we also suggest
£175.00 £131.25
£60.00 £45.00
£215.00 £161.25
£170.00 £127.50
The Falk Culinair Guarantee...
As you may already know, we provide a
"copper-bottomed" guarantee!
If you are not totally satisfied when you receive your Falk Copper Cookware, you can simply return this to us for a full, no-questions-asked refund.
In addition, all our products carry a lifetime warranty against any manufacturing defects.
Free next day UK delivery on all orders over £50