24cm Copper Casserole
Solid Copper. Beauty, durability, excellent heat conductivity. Falk Culinair has patented a process of bonding a 200 micron layer of fine stainless steel, for its hygienic and carefree qualities, to a 2.3mm solid copper plate for even heat distribution. Copper also maintains temperature levels, responding quickly to increases and decreases in temperature. This results in your recipes being expertly reproduced. This 24cm copper casserole is a perfect marriage of function and fashion.
Yields approximately eight generous servings
Possesses high thermal conductivity for accurate temperature regulation
Non–reactive stainless interiors for pure flavors
Tall straight sides for moisture retention
The alchemy of our intercrystallisation process produces the magic of classic solid copper cookware with 21st century technology. This gives you the beauty of copper with the non–reactive properties of stainless steel in a product of unparalleled durability. Oven to hob to table versatility makes this 24cm casserole the natural choice for discerning consumers like you.
Falk Ref: INO2524SF
Diameter: 24cm (9.4")  Height: 11cm (4.3")  Capacity: 4.9 litres (10.4 pints)  Weight: 2.86 kgs (6.3 lbs)
Add the Falk 24cm Copper Casserole to your cart
Price
£270.00
IN STOCK
---
Add a Falk 24cm Copper Lid to your cart
Price
£75.00
LOW STOCK
Customer Reviews
Showing 2 of 22 reviews see all reviews
"Stock" - Ashley
I would recommend this product to a friend!
2019-11-21
So far I've only used this for making a chicken stock, ideal for simmering away and reducing without worry because it's such a sturdy pan. I can only imagine it will be excellent for transferring from stove to oven dishes.
69 customers found this review helpful. Did you? Yes, I did!
"Copper Chef Set Purchased" - Mr Ksiazkiewicz
I would recommend this product to a friend!
2019-09-22
This was part of the Copper Chef Set that we purchased for my daughter and her soon to be husband. They have found it to be exactly what they wanted. The quality is excellent and they were absolutely thrilled with it's performance! This is a gift that will last a lifetime. Would highly recommend to anyone that is inclined to cooking with high quality and reliable kitchen cooking sets. If copper is good enough for the Queen's kitchen, it's good enough for us and Falk makes the best product.
94 customers found this review helpful. Did you? Yes, I did!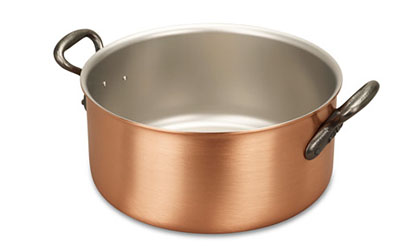 Rollover the image to zoom, or click to view this in high definition.
May we also suggest
£75.00
£305.00
£210.00
£210.00
The Falk Guarantee...
As you may already know, we provide a "copper-bottomed" guarantee!
If you are not totally satisfied when you receive your Falk Copper Cookware, you can simply return this to us for a full, no-questions-asked refund.
In addition, all our products carry a lifetime warranty against any manufacturing defects.
Free next day UK delivery on all orders over £50