28cm Copper Casserole
You've learned to expect more from Falk Culinair, and this large 28cm copper casserole is a perfect example of that excellence. From its generous crowd sized proportions, to its multi–functionality, to the superior heat distribution of copper, this cookware will exceed your expectations.
2.5mm bimetal construction for even heat distribution
Non–reactive stainless interiors for unaltered pure food flavour
High straight sides for optimum moisture retention
Two comfortable cast iron handles for safe lifting
Copper. No other metal used in cooking conducts heat as well, and this thermal conductivity allows accurate regulation of temperature whilst slow cooking. The fine 200 micron layer of stainless steel bonded in our patented bimetal process sets us apart as an industry leader. Falk Culinair. Superb results are within your grasp.
Falk Ref: INO2526SF
Diameter: 28cm (11")  Height: 12.5cm (4.9")  Capacity: 8 litres (16.9 pints)  Weight: 3.48 kgs (7.7 lbs)
Add the Falk 28cm Copper Casserole to your cart
Price
£350.00
IN STOCK
---
Add a Falk 28cm Copper Lid to your cart
Price
£95.00
IN STOCK
Customer Reviews
Showing 2 of 7 reviews see all reviews
"The mother of all casseroles!" - Joseph
I would recommend this product to a friend!
2014-12-27
We used it for cooking Middle Eastern cuisine, and what great flavors the food had, the size is perfect for a family, and it looks beautiful in the kitchen!
1068 customers found this review helpful. Did you? Yes, I did!
"Solid well made casserole" - Mr Murray
I would recommend this product to a friend!
2014-07-28
This casserole is likely to be the last one you will ever need to buy. It is large enough to cater for any eventuality. It will also be the centre of attention on the dining table.
1109 customers found this review helpful. Did you? Yes, I did!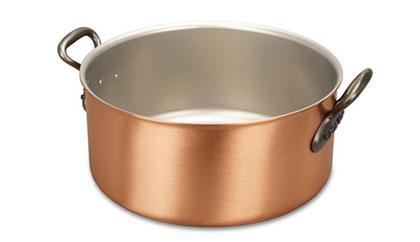 Rollover the image to zoom, or click to view this in high definition.
May we also suggest
£95.00
£290.00
£295.00
£290.00
The Falk Guarantee...
As you may already know, we provide a "copper-bottomed" guarantee!
If you are not totally satisfied when you receive your Falk Copper Cookware, you can simply return this to us for a full, no-questions-asked refund.
In addition, all our products carry a lifetime warranty against any manufacturing defects.
Free next day UK delivery on all orders over £50