16cm Copper Saucier Pan
I personally need two of these in my kitchen because I'm greedy and for some reason this is one of those utensils everyone seems to want at the same time. But my preferences aren't part of the professional grade copper goodness or awesome thermal conductivity that translate to some of the best solid copper cookware available today. Specs? 2.5mm bimetal wizardry resulting in pure food flavour excellence, combined with heat transfer second to none. A curved profile that is sexy and sleek and makes stirring easy for sauces and scrambled egg and roux and divine custards. An ergonomic (read comfortable) cast iron handle that's nearly indestructible, and believe me, we've tried. Falk Culinair. We dare you to defy the righteousness of this 16cm Saucier!
2.5mm bimetal construction for outstanding heat distribution
Curved profile to facilitate stirring- no loss of essential ingredients as in traditional straight sided pans
Satinated surfaces which require no polishing
Perfect for one generous or two miserly servings
A pot for every purpose? This one seems to fulfill nearly every culinary desire, approaching the hob demanding, "Bring it on baby!"
Falk Ref: INO2565SF
Diameter: 16cm (6.3")  Height: 7cm (2.8")  Capacity: 0.9 litres (1.9 pints)  Weight: 1.275 kgs (2.8 lbs)
Add the Falk 16cm Copper Saucier Pan to your cart
Price
£155.00
IN STOCK
---
Add a Falk 16cm Copper Lid to your cart
Price
£65.00
IN STOCK
Customer Reviews
Showing 2 of 6 reviews see all reviews
"Copper Chef Set Purchased" - Mr Ksiazkiewicz
I would recommend this product to a friend!
2019-09-22
This was part of the Copper Chef Set that we purchased for my daughter and her soon to be husband. They have found it to be exactly what they wanted. The quality is excellent and they were absolutely thrilled with it's performance! This is a gift that will last a lifetime. Would highly recommend to anyone that is inclined to cooking with high quality and reliable kitchen cooking sets. If copper is good enough for the Queen's kitchen, it's good enough for us and Falk makes the best product.
186 customers found this review helpful. Did you? Yes, I did!
"The best there is!" - Mr Winter
I would recommend this product to a friend!
2016-04-12
First Class Service from beginning to end. Superb product and customer service. Extremely high quality and exceptionally well made. Highly recommended!
832 customers found this review helpful. Did you? Yes, I did!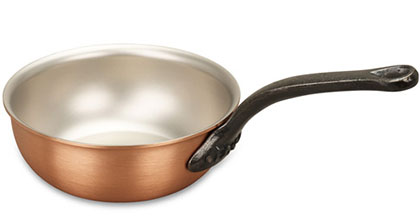 Rollover the image to zoom, or click to view this in high definition.
May we also suggest
£165.00
£65.00
£180.00 £90.00
£170.00
The Falk Guarantee...
As you may already know, we provide a "copper-bottomed" guarantee!
If you are not totally satisfied when you receive your Falk Copper Cookware, you can simply return this to us for a full, no-questions-asked refund.
In addition, all our products carry a lifetime warranty against any manufacturing defects.
Free next day UK delivery on all orders over £50