20cm Copper Saucier Pan
Our 20cm saucier posses the unique curved profile which facilitates stirring with no awkward sharp angles. Careful regulation of temperature is crucial when creating delicate sauces and reductions, which is why solid copper is the choice of so many experienced chefs. Falk Culinair combines the superior thermal conductivity of copper with non–reactive stainless which makes sure your recipes taste as they should. Falk Culinair. Bright ideas begin here.
2.5mm patented bimetal construction for even heat distribution
Curved profile facilitates stirring with no sharp angles
Satinated surfaces for easy maintenance
Yields approximately six servings
Falk Culinair brings you excellence to last a lifetime!
Falk Ref: INO2567SF
Diameter: 20cm (7.9")  Height: 7.6cm (3")  Capacity: 1.7 litres (3.6 pints)  Weight: 1.77 kgs (3.9 lbs)
Add the Falk 20cm Copper Saucier Pan to your cart
Price
£190.00 £142.50
IN STOCK
---
Add a Falk 20cm Copper Lid to your cart
Price
£65.00 £48.75
IN STOCK
Customer Reviews
Showing 2 of 7 reviews see all reviews
"Quality product & service" - Ms Tang
I would recommend this product to a friend!
2019-01-10
I really do like this item as I used it for a week. It looks very beautiful but quality. Also I am very appreciated of the company's after sales service when I phoned to change some items I bought. It is very experienced and very important for a customer to keep it in good memory.
39 customers found this review helpful. Did you? Yes, I did!
"Delighted" - Mrs Jacqueline Huault
I would recommend this product to a friend!
2018-01-13
This is the third article I have purchased. I live in France and I am amazed by the speed of the delivery. Two days after placing order.
The pans are beautiful to look at and so agreeable to use. Easy to clean.
My son is very pleased with the saucier I gave him for his birthday.
In a world where mediocraty seems to be the order of the day,how good it is to find something so superior.
286 customers found this review helpful. Did you? Yes, I did!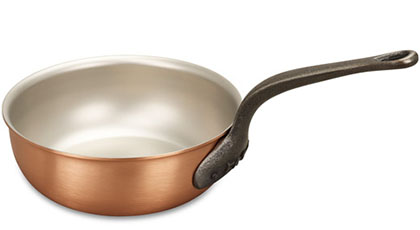 Rollover the image to zoom, or click to view this in high definition.
May we also suggest
£210.00 £157.50
£65.00 £48.75
£210.00 £157.50
£185.00 £138.75
The Falk Culinair Guarantee...
As you may already know, we provide a
"copper-bottomed" guarantee!
If you are not totally satisfied when you receive your Falk Copper Cookware, you can simply return this to us for a full, no-questions-asked refund.
In addition, all our products carry a lifetime warranty against any manufacturing defects.
Free next day UK delivery on all orders over £50