24cm Copper Saucier Pan
Moisture, texture and flavour are optimised in this 24cm saucier with its clever curved profile and patented bimetal technology. Due to the unique properties of copper, you'll be able to carefully regulate temperature for sauces, reductions and roux without rival. And the stainless interior ensures your foods taste like they should. Falk Culinair. A powerhouse of culinary innovation at your command!
Curved profile to facilitate stirring
Unique bimetal construction for accurate temperature regulation
Stainless interiors for pure food flavour
Yield six to eight servings
Stir up something unexpected with Falk Culinair.
Falk Ref: INO2568SF
Diameter: 24cm (9.4")  Height: 8cm (3.1")  Capacity: 2.9 litres (6.1 pints)  Weight: 2.57 kgs (5.7 lbs)
Add the Falk 24cm Copper Saucier Pan to your cart
Price
£240.00
IN STOCK
---
Add a Falk 24cm Copper Lid to your cart
Price
£85.00
IN STOCK
Customer Reviews
Showing 2 of 20 reviews see all reviews
"Copper Chef Set Purchased" - Mr Ksiazkiewicz
I would recommend this product to a friend!
2019-09-22
This was part of the Copper Chef Set that we purchased for my daughter and her soon to be husband. They have found it to be exactly what they wanted. The quality is excellent and they were absolutely thrilled with it's performance! This is a gift that will last a lifetime. Would highly recommend to anyone that is inclined to cooking with high quality and reliable kitchen cooking sets. If copper is good enough for the Queen's kitchen, it's good enough for us and Falk makes the best product.
214 customers found this review helpful. Did you? Yes, I did!
"Another favourite" - Andrew Conwell
I would recommend this product to a friend!
2019-06-09
Again perfect for most tasks, perfect for preparing sauces and also vegetables.
283 customers found this review helpful. Did you? Yes, I did!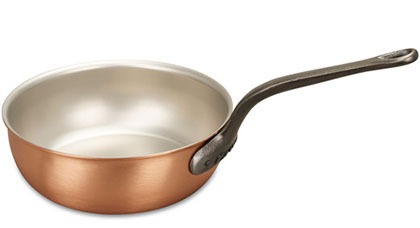 Rollover the image to zoom, or click to view this in high definition.
May we also suggest
£285.00
£85.00
£245.00
£325.00
The Falk Guarantee...
As you may already know, we provide a "copper-bottomed" guarantee!
If you are not totally satisfied when you receive your Falk Copper Cookware, you can simply return this to us for a full, no-questions-asked refund.
In addition, all our products carry a lifetime warranty against any manufacturing defects.
Free next day UK delivery on all orders over £50