14cm Copper Saucepan
Flat bottom, straight high sides and legendary Falk patented bimetal construction make this petite 14cm saucepan a real winner. Portions for two simmer, bubble and steam splendidly while retaining moisture and achieving optimum flavour and texture. Rice, grains, oatmeal, soups, and broths will cook scorch–free in this fine little saucepan. The superior heat conductivity of copper along with the non–reactive properties of stainless steel make Falk Culinair the choice of experts and professionals.
2.0mm bimetal craftsmanship for even heat distribution and superior conductivity
Non–reactive stainless interiors for pure food flavour
Ergonomic cast iron handles for safe, comfortable lifting
Straight sides and flat bottoms for optimum moisture retention
Falk Culinair brings hand crafted heirloom quality into the 21st century with patented bimetal technology. Give your family favourites a modern reception with this fine 14cm saucepan.
Falk Ref: INO2514SF
Diameter: 14cm (5.5")  Height: 7.4cm (2.9")  Capacity: 1.1 litres (2.3 pints)  Weight: 0.86 kgs (1.9 lbs)
Add the Falk 14cm Copper Saucepan to your cart
Price
£140.00
IN STOCK
---
Add a Falk 14cm Copper Lid to your cart
Price
£55.00
IN STOCK
Customer Reviews
Showing 2 of 12 reviews see all reviews
"Falk - the home of the best copper saucepans in the world!" - Victoria Smyth
I would recommend this product to a friend!
2021-09-09
Fabulous saucepans well worth the investment
Buy cheap buy thrice and with my Falk purchases I will never need to buy a saucepan again!!!
56 customers found this review helpful. Did you? Yes, I did!
"The best thing since sliced bread!" - Ian
I would recommend this product to a friend!
2019-06-24
What a difference it makes in using any of these copper pans - it heats up much more quickly and provides a much more even heat across the base of the pan than other, even quite expensive, pans.

What's not to like!
245 customers found this review helpful. Did you? Yes, I did!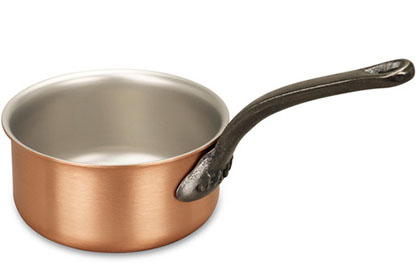 Rollover the image to zoom, or click to view this in high definition.
May we also suggest
£90.00
£55.00
£135.00
£130.00
The Falk Guarantee...
As you may already know, we provide a "copper-bottomed" guarantee!
If you are not totally satisfied when you receive your Falk Copper Cookware, you can simply return this to us for a full, no-questions-asked refund.
In addition, all our products carry a lifetime warranty against any manufacturing defects.
Free next day UK delivery on all orders over £50