18cm Copper Saucier Pan
The genius of this 18cm solid copper saucier is in the gently curved profile which completely eliminates sharp angles where essential ingredients might stick. Patented Falk bimetal construction combines the superior even heat distribution of copper with the non–reactive properties of stainless for pure food flavour every time you cook. For sauces, reductions, roux and other delicate recipes that require careful regulation of temperature and frequent stirring.
Curved profile for recipes which require frequent stirring
2.5mm bimetal construction for superior heat conductivity
Non–reactive stainless interiors for pure food flavour
Convenient size for approximately four servings
Satinated surfaces make fussy polishing a thing of the past. Ergonomic cast iron handles for a comfortable cooking experience. Falk Culinair. Our clever design outshines, outlasts and outperforms every expectation.
Falk Ref: TRY-ME
Diameter: 18cm (7.1")  Height: 7.3cm (2.9")  Capacity: 1.42 litres (2.5 pints)  Weight: 1.53 kgs (3.4 lbs)
Add the Falk 18cm Copper Saucier Pan to your cart
Price
£180.00 £90.00
IN STOCK
---
Add a Falk 18cm Copper Lid to your cart
Price
£65.00 £55.00
IN STOCK
Customer Reviews
Showing 2 of 277 reviews see all reviews
"I'm thrilled" - Peter
I would recommend this product to a friend!
2021-07-27
This is my first copper pan but definitely not the last. I have used it for egg based sauces, rice and risotto, scrambled eggs, melting chocolate, etc. This little saucier excelled in all disciplines.
177 customers found this review helpful. Did you? Yes, I did!
"First class pans and customer service" - Mark
I would recommend this product to a friend!
2021-06-20
These are simply the best pans you can buy. Excellent quality and fantastic customer service. Highly recommend both the pans and seller.
204 customers found this review helpful. Did you? Yes, I did!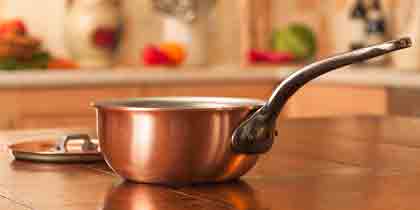 Rollover the image to zoom, or click to view this in high definition.
The Falk Guarantee...
As you may already know, we provide a "copper-bottomed" guarantee!
If you are not totally satisfied when you receive your Falk Copper Cookware, you can simply return this to us for a full, no-questions-asked refund.
In addition, all our products carry a lifetime warranty against any manufacturing defects.
Free next day UK delivery on all orders over £50