20cm Copper Frying Pan
Our 20cm copper frying pan is the ideal size for browning a chop, frying tomatoes, or perhaps searing a generous piece of tuna. Falk's patented bimetal construction distributes heat evenly while preventing chemical interactions with food. Turn up the heat with confidence!
2.5mm patented bimetal construction for even heat distribution
Low, flared sides to facilitate even browning and searing
Satinated surfaces for ease of cleaning
Perfect size for two or for recipe components
Typically in frying, a light layer of fat or oil is used to provide lubrication, enhance browning, and intensify flavour. Also, oil acts as a thermal mass to decrease cooking time. With Falk bimetal, less oil is necessary to achieve the desired effects. Enjoy healthier fried foods with Falk Culinair.
Falk Ref: INO2503SF
Diameter: 20cm (7.9")  Height: 4cm (1.6")  Capacity: 1.07 litres (2.3 pints)  Weight: 1.58 kgs (3.5 lbs)
Add the Falk 20cm Copper Frying Pan to your cart
Price
£155.00
IN STOCK
---
Add a Falk 20cm Copper Lid to your cart
Price
£60.00
IN STOCK
Customer Reviews
Showing 2 of 10 reviews see all reviews
"Best egg and omelette pan ever" - Mr Lawler
I would recommend this product to a friend!
2016-05-13
Have been frying eggs and omelette's on this pan since the day it arrived - once heated it is better then any non stick pan you ever used.
213 customers found this review helpful. Did you? Yes, I did!
"Fantastic!" - Marion
I would recommend this product to a friend!
2015-10-23
The delivery was good, everything was perfectly packed, nothing got damaged.

Cooking with those pans ( we bought 4 different pans and some casseroles) is really great and I can absolutely recommend buying it, it is a new quality of cooking.We love it!
303 customers found this review helpful. Did you? Yes, I did!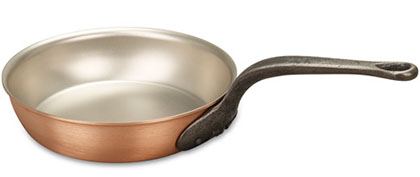 Rollover the image to zoom, or click to view this in high definition.
May we also suggest
£165.00
£60.00
£160.00
£165.00
The Falk Culinair Guarantee...
As you may already know, we provide a
"copper-bottomed" guarantee!
If you are not totally satisfied when you receive your Falk Copper Cookware, you can simply return this to us for a full, no-questions-asked refund.
In addition, all our products carry a lifetime warranty against any manufacturing defects.
Free next day UK delivery on all orders over £50